How to Close More Catering Deals & Double Your Closing Rates With This Proposal Strategy
Sep 27, 2023
Are you tired of pouring your heart and soul into writing catering proposals only to get ghosted? I get it, it sucks! But here is the problem I see many caterers do. Most caterers don't realize how important it is to be the first to respond to a lead.
According to WeddingWire, 48% of couples say that vendors don't respond in a timely manner. That's nearly half of your potential clients who feel neglected! But That's good news for you, because now that you know these stats all you have to do is make sure to respond quickly to be ahead of 50% of your competitors. And let's be real. If you are not following up, you simply leave money on the table.
Make sure to watch the video to the end because tip #6 is a game-changer. Now, do me a favor and comment below, and let me know how many times you follow up before you get an answer.
Before I go any further, if you are planning on starting a catering business or you want to grow your existing catering business, make sure to click here to get my Free PDF to discover the six things you need to do to start getting free local leads from Google.
Download it here - https://www.alshanmarketing.com/opt-in-e9755c64-3277-45bd-892c-8200d0b4274b
Now, let's talk about what you need in your catering proposals so you can close more deals and grow your business.
Tip #1: Create an exciting cover page for your catering proposal showcasing a past event similar to the possibility your potential client showed interest for.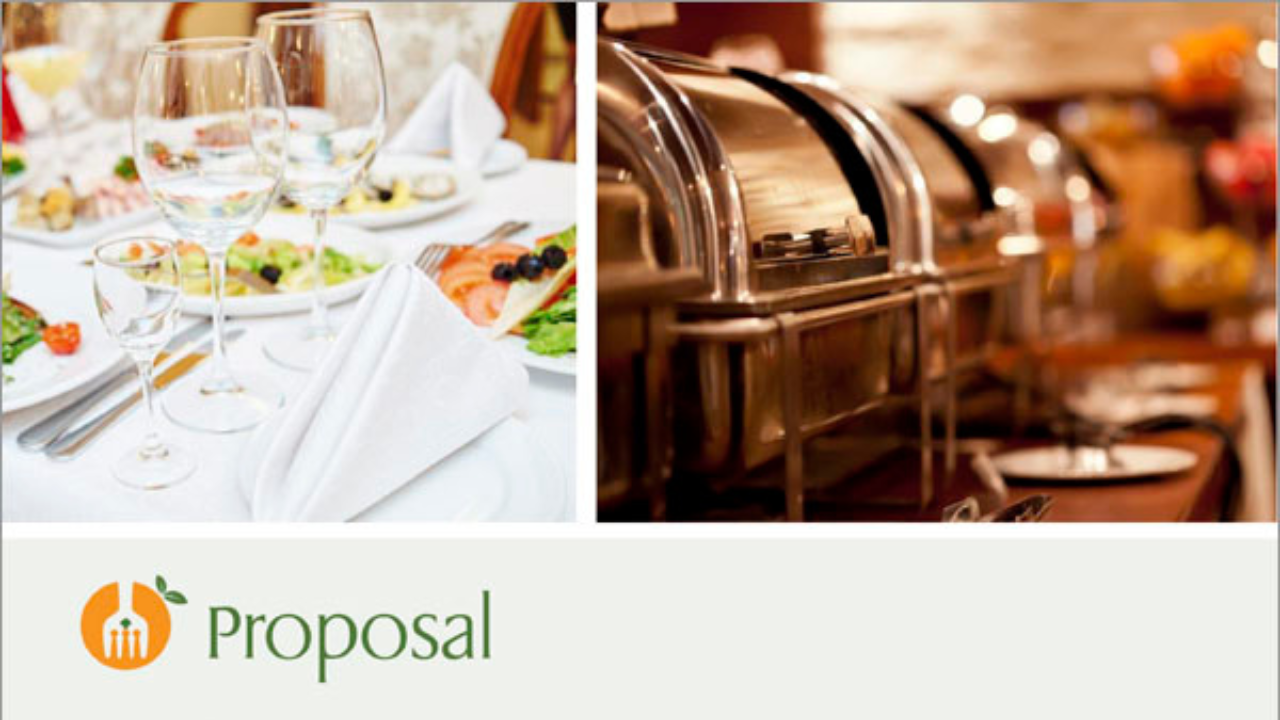 It could be the type of food or display the client showed interest in, on your initial phone conversation. This will show the potential client that you listened to her needs and wants. And make sure to clearly state the event's date and the party's reason. So, for example, if it's a kid's birthday party, make sure you know the kid's name and then title it Johhny's 5th Birthday Bash. You want to do this because you are reminding your client that you really care about her and that you listened to her. These are small psychological connections that you are making with your client to win the job. The more she feels like you know them, the easier it is for her to trust you.
Tip #2: Add a separate page with images on your catering proposal of the type of dishes your client asked for.
If she kept mentioning finger food, create a page with all the different kinds of finger foods you can offer. The more you can speak to what she was envisioning with your images the easier it will be for you to win her over. And look, I get it some of you are starting out, and you don't have the images to showcase here. So, what you need to do is go to Pinterest and grab inspirational photos from there. And all you have to do is mention on the page that these are inspirational images you can produce. As long as you think you can make the same exact thing, the customer will not mind that these are not your past display of work. Just make sure to be transparent with your communication.
Tip #3: Add a detailed page on your catering proposal about the catering event and who is in charge of the catering job.
For example, what date the event will be held and the location and time. And I always made sure to add the dedicated manager of that specific job. For the most part, it will be you when you start out. So, I would state: Your dedicated Catering Manager is Al Shan. And if you need to reach him, his personal cell (and then add the telephone number). I would do this to put their mind at ease, when they know that they have a dedicated catering manager and that they already know his cell number. It makes them feel comfortable knowing who to contact if something comes up or something goes wrong. Again, we are making sure that they know that we care. If people know that you care about the success of their event more than they do, you have the job. And no one can compete with that.
Tip #4: Showcase Testimonials and Reviews Right in the catering proposal
Look, people trust other people's opinions. So, if you've got glowing reviews or testimonials from past clients, flaunt them! Add a page dedicated to showcasing these reviews, especially those related to the type of event your potential client is interested in. This builds credibility and shows that you're not just all talk. You've got a track record of making events unforgettable, and that's marketing gold right there!
Tip #5: Include a Clear Call-to-Action (CTA) and Next Steps on your catering proposal.
Don't leave your client hanging, wondering what to do next. At the end of your proposal, make it super clear what they need to do to lock you in. Whether it's a "Sign Here" line or a step-by-step guide on how to confirm the booking, make it idiot-proof. The easier you make it for them to say yes, the quicker you'll close that deal.
Tip #6: Master the Art of the Follow-Up with Potential Catering Clients (And Actually Do It!)
Did you know that according to WeddingWire, 48% of couples say that vendors don't respond in a timely manner? That's nearly half of your potential clients who feel neglected! And let's be real. No follow-up often means no booking.
Here's the deal: You need a system in place for following up that doesn't make you sound like a pushy salesperson. The key is to be genuine and offer value in your follow-up messages. Maybe it's a quick tip for their event, or perhaps it's a special offer they can't refuse. Whatever it is, make it about them, not just about getting the sale.
Having a structured follow-up system can be the difference between a calendar full of events and a calendar full of wishful thinking. So, don't just send a proposal and hope for the best; take control of the narrative and make them an offer they can't ignore.
Trust me, a well-timed, thoughtful follow-up can turn a 'maybe' into a 'definitely' faster than you can say "Bon Appétit!" So, if you're not following up, you're not just leaving money on the table; you're practically handing it to your competitors.
Okay now, if you are looking to find more leads from the internet make sure to watch this video titled: 7 Tips for Marketing Your Catering Business Online - And How ChatGPT Makes It Easier.
I hope you got some value from this video and remember to do something differently today, for your business, so you can live a better life tomorrow. I see you in the next video!
Receive Marketing Tips Every Week
Join our mailing list to receive the latest marketing tips for your food business.
Don't worry, your information will not be shared.
We hate SPAM. We will never sell your information, for any reason.